THIS IS THE
SMALLEST DINOSAUR
TO EVER LIVE.

What is Oculudentavis khaungraae
Smallest Dinosaur to ever live!
This dinosaur lived in the Cretaceous period - Mesozoic era and strongly resembles a modern day humming bird. The dinosaur was found inside a lump of amber that has preserved its body that we can now study.
Click here for more info.
The dinosaur is native to Northern Myanmar located near the Eurasian Continental Plate.
FUN FACTS
The dinosaur was the smallest living bird—in size.
The dinosaur was a predator and probably fed on small insects.
Also known as "The Bird in Amber"
Here's a picture of the little guy.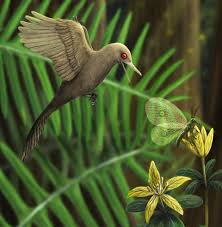 How strange is it that the Earth has had
so many species in over 4 Billion years? I wonder what other types of creatures we have yet to discover