THIS IS THE
LARGEST LIVING
LAND MAMMAL.

What is Loxodonta africana
African Elephant
The African elephant is the world's largest land mammal. The males average up to 3m tall and can weigh up to 6 tonnes. It is reported that wild elephants can live for up to 60-70 years. Click here for more info.
The African elephant is native to: you guessed it, Africa.
FUN FACTS
An elephant never forgets.
Elephants have four knees.
Elephants have around 150,000 muscle units in their trunk.
Here's a picture of the friendly,
family oriented pachyderm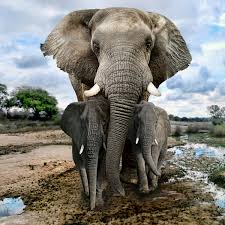 The Elephant's skin is thick is and dry.
Some may even like to compare it to the surface of Mars.